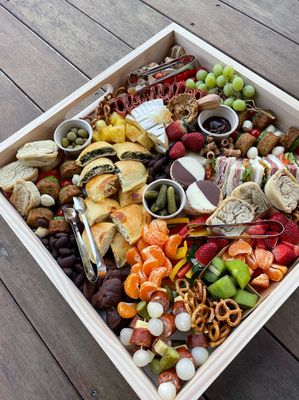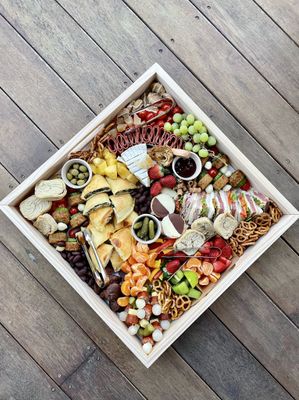 The Good for 20
$450.00
Out of stock
Got a party or a business event for up to 20 people (for a good feed) or up to 30 (for a light graze), then this platter is for you! All the goodness of a Lush Bites grazing in one platter. All you need is to supply the table and this delicious art will be the centre of attention.
6x NZ made and international premium cheeses
6x premium charcuterie items (a combination of chicken, beef or pork, whichever is available)
fresh fruits and vegie sticks
chocolates and sweet treats
crackers
dips
Please note that photo is indicative only. Due to the nature of our business, seasonality affects availability of certain products or items.
The Metre Platter measures 515mm x 515mm x 95mm.
Standard, Gluten-free, vegetarian or vegan?
Please use the drop-down menu or use the comment box on the check-out page to indicate the split (e.g. X number of guests are GF, Y number of guests are Vegetarian, the rest have no dietary restrictions).

Other dietary requirements:
Unfortunately, we are unable to cater for halal or allergies to dairy, nut, shellfish/seafood.

Availability:
We require at least 48 hours notice.

Delivery:
$5 within Hamilton.
$10 to Ngaruawahia, Cambridge or Tamahere.
Sorry, not available in any other locations outside of those listed above.
SKU: For20-Vegetarian